In my first blog post, "The Relevance of Physical Retail in the Customer Channel," available on empatheticmachines.org, I spoke about the relevance of physical retail today as well as introduced the idea of the Customer Channel.  Today, I'm going to dive into some of the technology empowering the Customer Channel in physical retail. In particular, let's discuss how tech is transforming physical retail. I'm talking about The Internet of Things, AI and so much more…
This is incredibly exciting in so many ways…
When I say we are in the era of the Customer Channel, what do I mean? Don't we already call this, "omnichannel"? In my opinion, that doesn't do justice to what's happening. We are beyond omnichannel. Today, retailers and brands need to support their customers how, when and where they want to shop. It's seamless and can reorient around a customer's changing needs, sometimes at a moment's notice.
Basically, shoppers rule. They are in control. Customers (or should I say "shoppers") don't look at different channels. Start a transaction on Instagram? Why not.  Drive through pickup? Of course. Half shipped, half in store? Got it. Ship to store? Certainly. Shoppers look at a retailer and engage how, when, why and where they want to. This could include any one or combination of stores, catalogs, social media, the phone, online. Channels? They're great but they are just a part of complex mélange that can be organized as needed.
Technology is at the foundation of this decade's transformation. While the last years fueled massive improvements in researching, browsing, selecting, purchasing, returning and/or exchanging on mobile devices, tablets and desktops, the current transformation brings more intelligence and continuity to customer experiences with retailers, where the store is a fundamental part of the process.
TECH CONNECTS:  HELPING BRIDGE THE JOURNEY (five places that improve the end-to-end experience)
I like to believe tech is helping to bridge the journey because of the customer – to optimize operations, processes, procedures (back of house and front of house) across all touch points to create a connected retail experience. If it's not, it should be.  Retailers and brands need to support, allow and empower their customers to engage with – and shop – them as the customer wants. This takes innovation and transformation.  Here's five tech examples that are improving the experience:
Inventory visibility
Is this becoming table stakes? Zara has offered this inventory visibility to their customers for some time now.
Fulfillment
Nordstrom continues to roll out of Nordstrom Local stores where you order online and then pick up in these neighborhood locations that offer express alterations and their legendary customer service. Allbirds (via Shopify), to highlight one retailer, offers pick up in store and fulfills orders via ship from store.
Virtual shopping
Again, Nordstrom with their new Nordstrom Live virtual shopping experiences.  Swarovski has also played in this space.
Improved 3D product visualization
Can you be a home furnishings retailer without compelling 3D product visualization and customization? I think not. Virtual try on is also a relevant and compelling use of this technology that benefits and supports the customer experience. Warby Parker has used this technology in a smart customer-centric way by creating a compelling virtual try on via their mobile app.
Social commerce
Snapchat has incorporated augmented reality in their shopping experiences. TikTok has tested a "Shop Now" button. According to a test conducted with Levi's and various influencers, the "Shop Now" button generated watch times twice as long as the TikTok average.
I'm just skimming the surface, sharing a few examples.  Innovation and investments are happening across the spectrum. We have a lot more to talk about.
WHAT'S IN STORE? TECHNOLOGY
Let's focus on how this explosion of innovation is affecting physical retail. Technology is helping make physical retail central to Direct-to-Consumer strategy by providing retailers and brands with a wealth of data – especially in relationship to their physical retail stores. Retailers and brands can create the frictionless customer experience of online shopping in the store. They are "able to use the same type of rich data and high-performance analytics that retailers use to drive websites and mobile shopping trips," according to Dan Mitchell at SAS.
The Internet of Things (IoT) is a big part of this seamless, optimized, connected shopping experience. Some call it Frictionless Retail, I call it optimizing the Customer Channel.
How does IoT work? Sensors, cameras, beacons, RFID and devices are all connected to the internet. Combining the mountains of data from these connected devices with statistical analyses and Artificial Intelligence (AI), and other data processing technologies, reduces it into actionable information.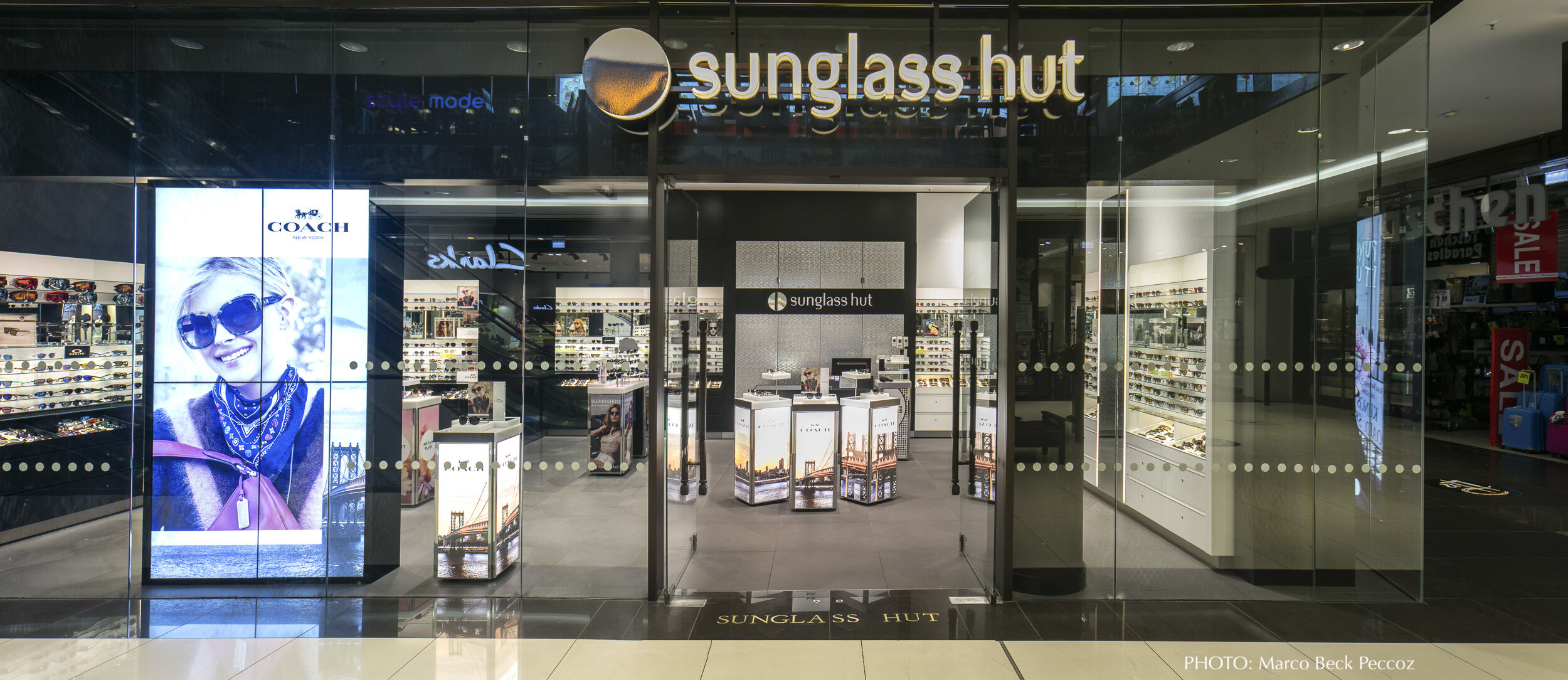 RetailNext was early in this space and has continued to evolve and expand their technology, allowing retailers access to a wealth of data relating to their physical footprint including traffic pattern analysis, heat mapping, dwell time and much more.
When I worked at Luxottica SpA, I brought in RetailNext to perform a deep test on Sunglass Hut stores in the UK. By using cameras and sensors, we were able to create maps that showed us exactly how customers were walking through our store. We tracked people through the store, where they went, where they dwelled and for how long.
We layered this data with the merchandise layout (where each brand and products were) and even our staff schedules. We captured data over a set period of time that included changes to our front window displays and visual merchandising and messaging changes in store.
Why? We wanted to know if the time, cost and effort (corporate and in-store staff labor) to change our presentations were relevant to our customer. Did it help drive sales? Did it affect shopping behavior?
+ 25% 2020 vs 2019
Shopper Yield (Net Sales / Traffic)
Represents purpose-driven shoppers & retailers' implementation of BOPIS & Curbside Pickup
Yes. Not only did we see traffic and dwell time shifts relating to sales, visual merchandising and marketing changes, but we also learned unexpected things like shifts in conversation rate at very specific times of day.
This was a fascinating early look into deep metrics that helped to justify marketing spend, physical store design, layout, space planning, visual merchandising changes and more.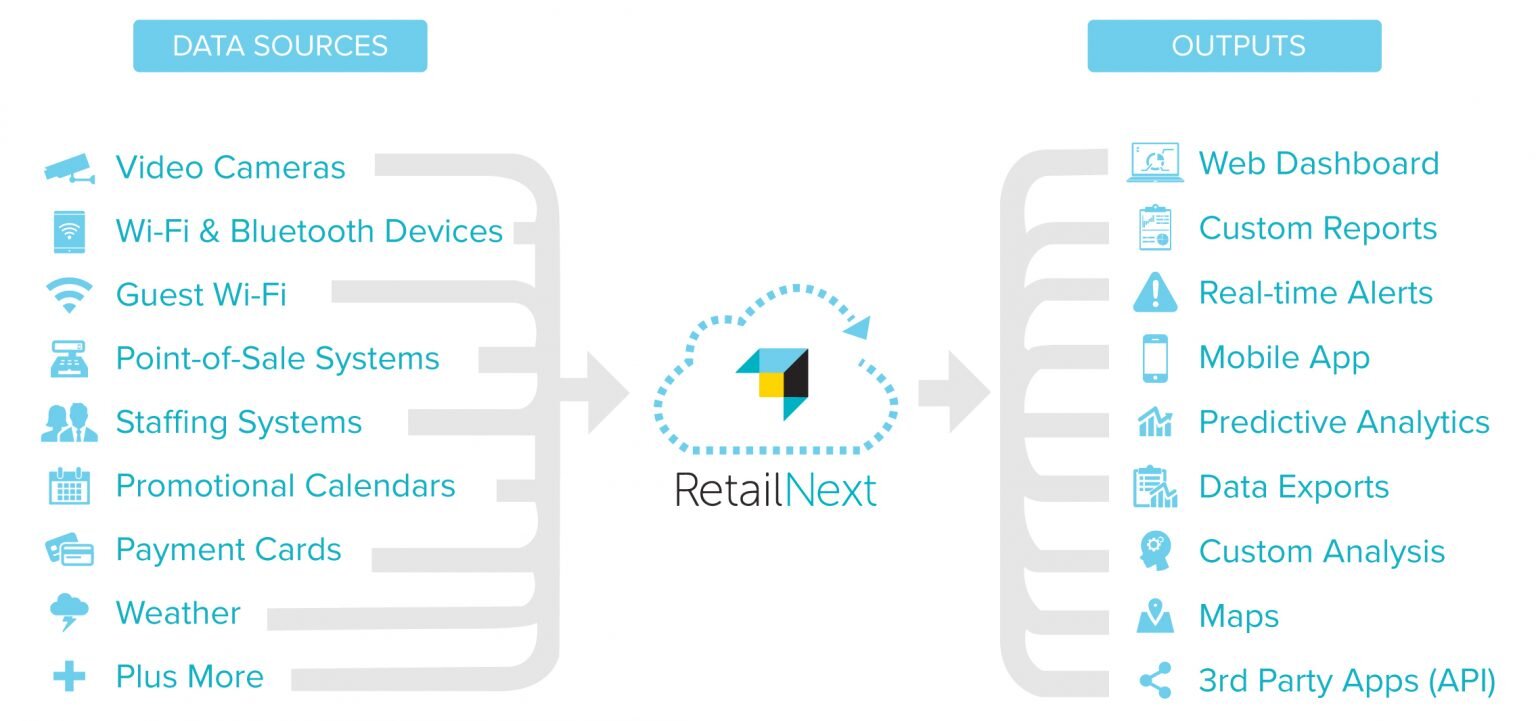 RetailNext delivers these data points as well as enhanced connected journey analytics, better insights on what marketing programs are driving traffic and conversion, and data to best connect personalized messaging to shoppers who desire it.
"JUST WALK OUT," OR "SHOP ANYWHERE"
Maybe the most visible representation of the power of IoT in the marketplace today is Amazon Go. Today, they have 26 locations (and growing) as well as their first Amazon Go Grocery.  In true Amazon fashion, they aren't keeping this technology to themselves, but are licensing their "Just Walk Out" platform.  Check out Hudson Nonstop.
But they aren't the only one in this space. MasterCard has introduced Shop Anywhere, which is supported by AI and computer vision technology partner Accel Robotics.  They are working on checkout-free shopping (with Circle K, Delaware North and Dunkin') as well as AI-powered drive throughs (with Sonic and White Castle).
CONCLUSION
Physical retail remains relevant (let's remember the US Census Bureau News has reported that as of Q3 2020, e-commerce accounted for 14.3% of the total US retail sales. Clearly, we are still shopping in physical stores.)  In fact, physical retail is a critical – and central – part of a robust Direct to Consumer strategy. The rich data that is now available allows retailers and brands to make smarter, faster and more informed decisions all in the service of the one to one relationship.
There are endless workstreams where retailers can focus and invest. Needless to say, retailers must be savvy and strategic today and focus their spending on where they will get the biggest return on their investment. Keeping the customer center to these decisions is priority #1.
Let's go shopping.